HotDoc Kiosk now at Don Medical Clinic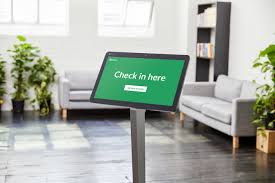 Our reception team love greeting our patients face to face, but we know sometimes it can get a bit busy so the Don Medical Team have installed a self-check in kiosk IPad for you to use when it is a bit busy.
If you prefer to check in without saying your personal details out-loud, you can now use the Kiosk IPad instead.
If there is information our reception team need to ask you, the kiosk screen will direct you to the desk.
The Kiosk is located on the right side of the reception entry, near the window
It will ask you to input some personal information to confirm it has the correct person and to check that the details we have are correct and up dated if they are not correct.
It will allow existing patients to check in at reception and go to the waiting room.
You can check in from 30 minutes prior up to the time of your appointment.
All new patients will be directed to the reception desk as per usual procedure
If you are acutely unwell or are coughing and possibly infectious, please check in at reception and ask for a face mask.